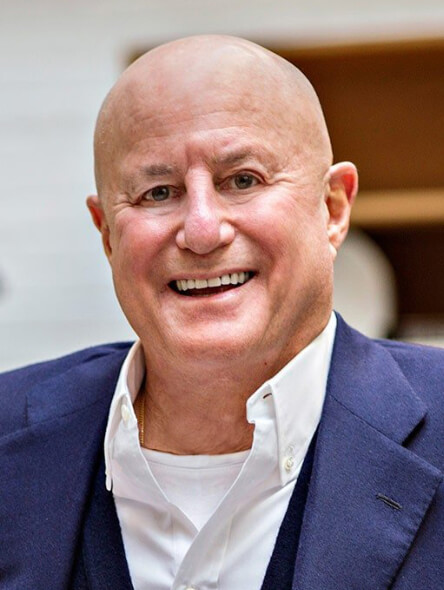 Chairman and Chief Executive Officer, MacAndrews & Forbes
Perelman first worked alongside his father on deals at Belmont Industries in Philadelphia before moving to New York City to strike out on his own. His first investment was Cohen-Hatfield; a jewelry store chain that he eventually sold to Sam Walton to become Walmart's in-house jewelry franchise.
Perelman has owned and run some of the most iconic brands over the years including: Marvel, Sunbeam, Pantry Pride, Panavision and New World Entertainment. In 1985, Perelman acquired his most high-profile company, the multinational cosmetics, skin care, fragrance and personal care company Revlon, which he still holds 36 years later and is now run by his daughter Debra.
MacAndrews & Forbes Incorporated, is an investment company that owns and operates a diversified portfolio of public and private companies. The principal interests of MacAndrews & Forbes include Vericast, vTvTherapeutics LLC, SIGA and Revlon.
In addition to his accomplishments as a business leader, Mr. Perelman has been recognized throughout his extensive career as a major supporter of many of the nation's most prominent cultural, educational and medical institutions.
The Ronald O. Perelman Center for Emergency Services at NYU Langone Medical Center opened in April 2014. The Center more than tripled the size of the former Emergency Department, helping to meet the growing need for emergency care service in NYC.
A longtime supporter of the University of Pennsylvania, Mr. Perelman announced the creation of the Perelman Center for Political Science and Economics in February 2013. The Center fosters the teaching and research required to develop positions on national and international matters.
His commitment to cutting-edge health research has contributed to life-changing advancements for patients in New York and around the world, particularly through the establishment of the Ronald O. Perelman Heart Institute at New York Presbyterian Hospital (2009), the Ronald O. Perelman and Claudia Cohen Center for Reproductive Medicine at Weill Cornell Medical Center (2008), and the Ronald O. Perelman Department of Dermatology at New York University Langone Medical Center (1991).
As chairman of Revlon, Mr. Perelman has demonstrated a longstanding commitment to improving women's health. In 1990 he created the Revlon/UCLA Women's Cancer Research Program, which led to the development of Herceptin, the groundbreaking treatment for breast cancer. The EIF Revlon Run/Walk has raised more than $100 million to fight women's cancers. In 2014, he co-founded, along with Barbra Streisand, the Women's Heart Alliance to raise awareness, encourage action and drive new research to fight heart disease in women.
Mr. Perelman is also a generous supporter of the arts. In June 2016 he announced a $75 million lead gift to fund the Perelman Performing Arts Center at the World Trade Center. Scheduled to open in 2023, the new Perelman Center will serve as a world-class performance space in Lower Manhattan, producing and premiering new works of theater, dance, music, film and opera.
Mr. Perelman is the Vice Chairman of the Apollo Theater Foundation and sits on the board of many institutions including: New York Presbyterian Hospital, NYU Langone Medical Center and The Ford Theater
Mr. Perelman received a BS in Economics and an MBA from the Wharton School of Business at the University of Pennsylvania. He lives in New York City with his wife and is the father of eight children.
BARRY F. SCHWARTZ
Emeritus Vice Chairman
Executive Vice President,
Strategy and New Business Development
(on leave)
Executive Vice President, 
Chief Administrative Officer and Special Counsel to the Office of the Chairman.
Senior Vice President, 
Capital Markets